Crawley Avenue,
Crawley,
West Sussex
RH11 0DB
Bus
Metrobus route 3 operates the bus route passing the school. The bus stops are located just outside on Crawley Avenue.
Car
Parents/Carers may drop and pick up their children outside the school. Please be advised that at the start and end of the school day the road into the school becomes very congested.
Bicycles
Students can cycle to school and secure their bicycles in the bicycle sheds at the back of the school.
Parents/Carers are asked to make sure that the bicycle is roadworthy, to impress on the child the need for the greatest care and to encourage him/her to take a cycling proficiency course and test as soon as possible. In line with the Highway Code, all cycles must have two working brakes. The importance of proper lights and visible jackets during the winter is clear. Reflective bands are to be encouraged.
All cycles should be padlocked; combination locks are not recommended. All accessories should be removed from the bicycles before being left in the sheds. The sheds are locked in the morning and are re-opened at the end of school day. If a bicycle is required before the end of the day please see reception who will assist you.
Walking
Many of our students walk to and from school. There are several entrances into the school:
1. Entry from Crawley Avenue. We ask that students are aware of the dangers associated with this busy road and only cross over at the traffic lights
2. Subways from either The Dingle or Quantock Close, West Green
3. Pathway leading from The Mill Primary
4. The pathway leading from Lady Margaret Road through the housing estate. To safeguard our students this entrance is locked from 9am-2:30pm.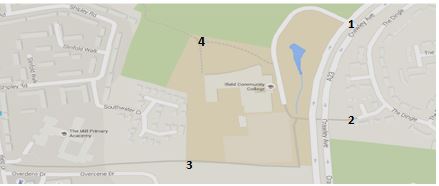 Train
We are a short walk from Ifield train station situated on Ifield Drive. The school can be accessed from walking on the pathway from the Mill Primary situated opposite the train station which will bring you straight into the school. (pathway 3 above).
https://www.thetrainline.com/trains/great-britain/family-train-tickets