Mrs Osei-Bempong - Subject Leader of Vocational Subjects
Miss Wilson
Ms Priyesh - Business Studies
Vision of the Business Studies Department
The Department aims to inspire, motivate, build resilience and engage our students to learn and understand the stimulating but complex World of Business. The curriculum has been deliberately designed to incite in them a passion for enterprise and creativity so that they could be prepared to take their places in business and enterprise in our World today.
Business Curriculum
The Business Studies Department at Ifield Community College supports the school's ethos and objectives to provide a balanced but broad curriculum that is inclusive and accessible by all the different groups of students that the school has, to reach their potential and again, to equip them with the springboard for further academic and social achievements. The curriculum has been deliberately designed to incorporate individual student's learning styles so as to raise standards, foster success leading to high levels of high achievement for all the students.
The curriculum also provides opportunities to experience the World of work beyond the classroom, thereby encouraging the students to harness the right skills and qualities needed for them to be successful, responsible and effective citizens.
The Intent
It is our intention to prepare the young people in our care to be lifelong learners, responsible world citizens and positive contributors to their society. This is why when planning the curriculum, we have taken into account the wide social and economic experiences of our students. We already know that the students are business minded and have entrepreneurial skills and qualities; therefore, the curriculum is inclusive and accessible for the students and supports them in realising their full potential by:
Developing transferable skills to support progression to the next stage of education and for a successful adult and working life in modern society.
Encouraging hard work, independent learners who are highly motivated to achieve their full potential
Enabling them to be independent, ambitious and confident learners who are fully engaged with their learning and development
The courses on offer enable the students to have a clear and uninterrupted pathway allowing a variety of different progression routes into Sixth Form, further education and apprenticeships. Long term and medium term planning are in place for the course and shows progression as they are interleaved from Year 9 through to the Programme of Learning into Year 11.
Key Stage 4
AQA GCSE (9-1) Business
Students get the opportunity to choose Business Studies in Year 8 to study from Year 9. The Department has recently moved away from the Cambridge National Level 1/2 in Enterprise & Marketing to the AQA GCSE (9-1) Business. The aim was to remove the pressure of completing coursework during the lockdown and also to enable students to have a broader frame of learning the subject, which AQA GCSE provides. Unlike the Cambridge National Level 1/2 in Enterprise & Marketing which was a vocational course, this time students have to sit two at the end of Year 11. As a result of this, the SOW has been deliberately designed to allow for a 3-year study of the units. The main benefit of this is that not only do the learners have the units nicely spaced out across the 3 years but also, the SOW and the learning activities have been carefully designed to include:
Key terms to help students use business terminology to identify and explain business activities as required by the specification, while at the same time helping them to build a solid foundation in business language and literacy
'Business insight' stops that link the theory to examples of actual businesses, with special emphasis on businesses in the 'Gatwick Diamond' so that students are aware of the different businesses that are in Crawley and their impact and influences on the local economy.
'Maths Moment' questions to help students appreciate business maths early on in their learning and to build their ability and confidence in using quantitative data effectively as part of the skill
Use of visual aids such as pictograms, diagrams, fill-in-the gaps and sentence starters to enable all students with their varying learning needs to access the subject effectively
'Test yourself' section that has short answers and data response questions to help students test their knowledge and understanding
At the end of each booklet, there are further practice questions and some sample answers showing learners the ways to tackle and sometimes how not to tackle these types of questions
All of these means that each unit is completed thoroughly and the learners given adequate time to retrieve, test and embed information into the long-term memory. Learners are also given the opportunity to develop self-reflection skills and self-regulation.
Key Stage 5
BTEC Level 3 National in Business
This course also enables the students to have a practical insight into the operations of a number of businesses in different industries. Some of the practical activities include the opportunity to design, plan and implement a marketing strategy for a real business to help the business meet its maximum profit potential.
Our students at Level 3 therefore develop:
Understanding of how organisations operate. This helps them to gain useful skills about how businesses are run successfully, including potential pitfalls. This prepares them to be adaptable and confident employee or employer.
Problem-solving skills through activities such as designing and implementing business plans, budgeting and financial forecasting as well as showing logical and realistic solutions to business problems
Presentation skills that allow them to improve their oral communication, diction and confidence
Awareness of the ethical dilemmas and responsibilities faced by organisations and individuals
Numeracy skills in Business Studies through topics such as investment, funding and how to use and interpret financial data. These mathematical abilities are widely useful as they develop logical and analytical skills.
Implementation
Students at both Key Stages 4 and 5 are taught based on the Programme of Learning that has been designed to incorporate the skills and qualities that have been highlighted earlier. Teachers are well-equipped with needed resources to support the learning of all the students.
Teachers engage in the whole-school professional learning programmes that help to sharpen their skills and ability to inspire the student to be successful in their external exams or their controlled/coursework.
As part of the whole-school monitoring and feedback, the teachers assess according to the school policy on marking and feedback. Students are also given the opportunity to correct their mistakes or misconceptions as may be required.
Teachers use direct instructions to construct or deconstruct modelled answers so that students gain confidence when developing skills in answering the long essay questions. The various types of homework, the topic activity booklets and revision workbooks to have helped to build the needed depth and challenge required at either Key Stage 4 or 5. Teams also have a number of teacher resources as well as the 'Shadow Curriculum' which students could fall back on during times when they my be absent from school for one reason or the other.
Teachers also a range of teaching and learning strategies such as the PAR Model (Present, Apply and Review), Direct Teaching and the Bloom's Taxonomy that allows for the learning objectives to mirror the assessment criteria. Grade boundaries are used extensively therefore students are aware of their target grades and or progress as well as the steps they need to take in order to make the necessary progress required.
Recently, teachers have introduced metacognition and retrieval strategies to enable each student build their confidence to attempt and answer the higher marks in the exam.
Impact
The impact would be judged based on the quality of the curriculum. The quality of the curriculum will arise from:
Use tracking to encourage and motivate each student to achieve the maximum marks in the coursework
Use tracking to identify a SWOT analysis for each student to help them to prepare well for the external exam
Using appropriate scaffolding techniques to enable students in the SEND and disadvantaged groups to make the needed progress
Incorporate exam techniques and understanding of the command words in every lesson
High levels of achievement in the results of the external examinations and coursework
Students are confident to choose Business Studies in their next stage of education, employment or training
Positive impact has been evidenced at KS5, where external exam results and external verification of coursework have been of great success this year.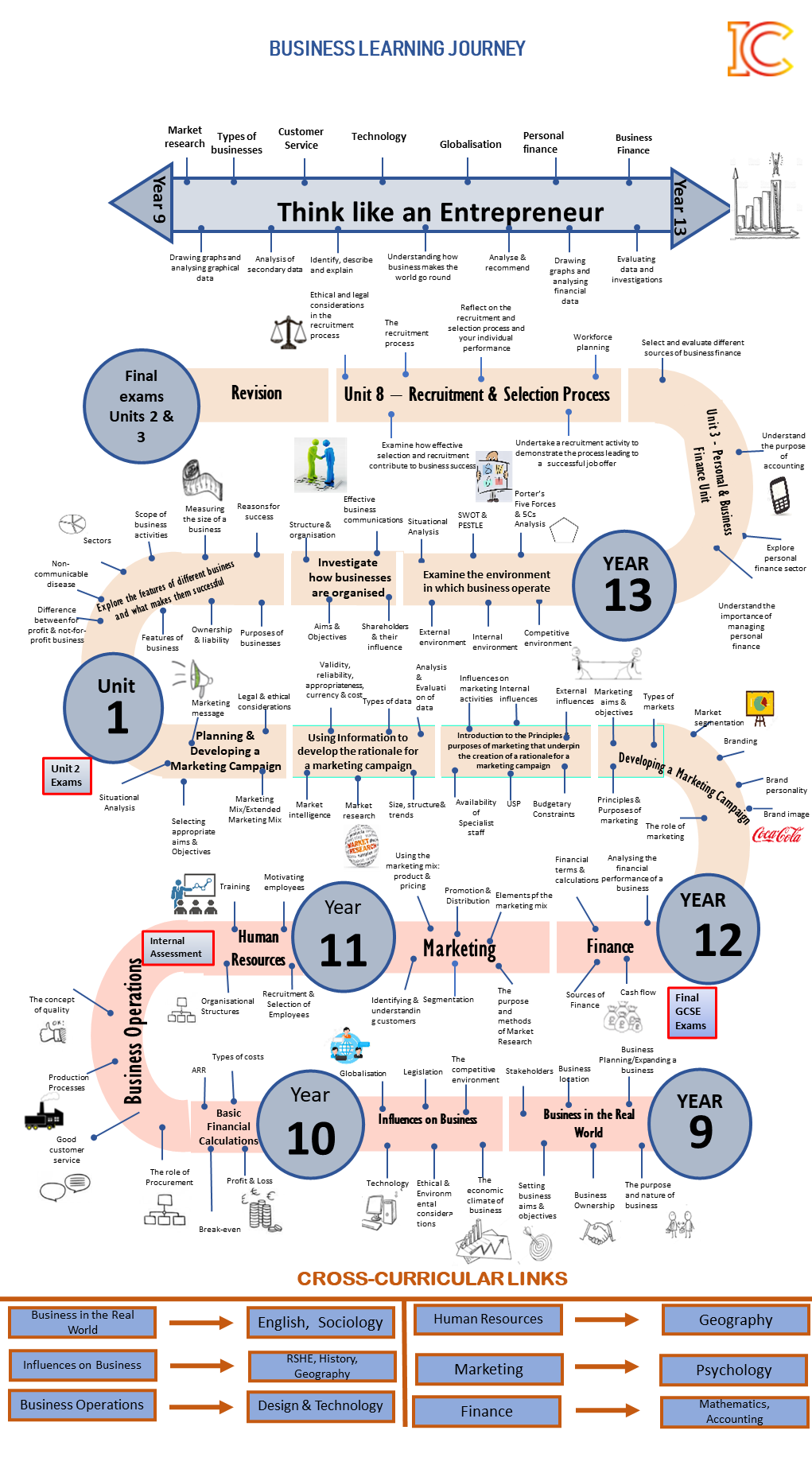 Key Stage 4 Overviews & Disciplinary Literacy Overview
Key Stage 5 Overviews