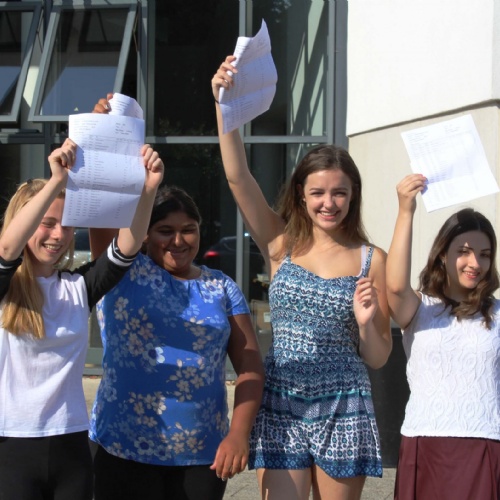 A record set of GCSE results are being celebrated at ICC.
The school has its best ever outcomes at GCSE across the whole range of measures and in all key subjects.
We are delighted that the hard work put in by students and staff over the last two years has paid off and 50% of our Year 11 students attained 5 good grades including English and Maths a rise of 14% on last year. The proportion of students attaining good grades in English and Maths was 52%, a rise of 11%. The new measure of progress 8 stands at +0.3 , showing that our students make progress well in excess of schools nationally, irrespective of their ability.
We are extremely proud of the success of all of our students who showed the tenacity and dedication to succeed. We have many high achievers including Sara Moufeed with 9A* and 3A grades, Ayesha Mehmood with 8A* and 4A grades, Nicole Buckley, Jade Dancaster and Daniella Gutu with 11A/A* grades each and Jade Sisk-Lavers with 10A/A* grades.
We have seen significant rises in GCSE results in English (10% increase), Maths (11% increase), Science (20% increase), Geography (29% increase), History (5% increase) as well as the separate sciences Biology, Chemistry and Physics all improving. This is down to the hard work put in by all the school community, including parents to ensure the school is moving forward rapidly.
The majority of these students will be staying at ICC for sixth form and we look forward to their continued success.
We have worked hard to develop a culture of celebration at ICC, it is great to have so much to celebrate!
Rob Corbett, Principal, Ifield Community College
Click here to see photographs.