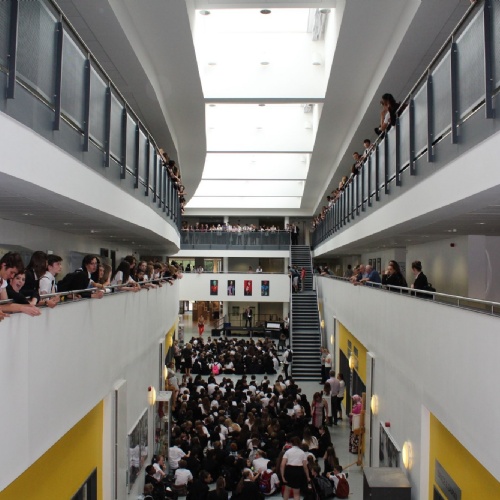 Mr Corbett reflected on our how successful ICC students have been this last year.
Mr Corbett begun the assembly congratulating all the students who won awards for their fantastic approach to college. He went on to speak about:
Charity work: He congratulated everyone for raising £6500.00 in the sponsored walk and how Barclays matched this figure. We raised £13,000 for good causes through the walk and how Coco's Foundation (one of charities that we are donating to) came and spoke in assemblies of the good work they do for HIV children in Central Africa. Congratulations to Kirsten Miller who alone raised £230.00 by completing the sponsored walk.
Children in Need, Christmas Jumper Day, Sports Relief all show what a kind and giving community we are at ICC.
Trips: Year 10 trip to Ypres, Students were really respectful when visiting all the sites and in particular when attending the Last Post Ceremony at the Menin Gate in 36 degrees heat! Millie Baverstock, Chloe Croaker and Cameron Licence presented a wreath of behalf of the college. Millie and Cameron wore the medals won in WW1 and WW2 by family members. Both the owner of the hostel and coach driver praised our students behaviour. Our students were a credit to our college.
STEM: Mr Corbett spoke of STEM (Science, Maths,Engineering and Technology) and what cool stuff these subjects lead too. Mr Curran went on to speak about our successful STEM activities that have run during the year from Year 7 Widening Participation involving Year 7 visiting universities. Our Year 10 students became involved in the Brightside Challange, an online Mentoring Charity. Students had to produce a media piece that will help other young people learn about their future options. Everyone who participated was awarded a certificate and Mrs Veaney who coordinated the project announced the winning team.
Sports: sadly we were unable to run Sports Day this year but congratulations to all the following students that have contributed to sports outside the college:
Kate Cheer - England Table Tennis Team
Antef Tsoungui - County Football and Chelsea Academy
Derrick Kaboggoza - County Football, Sussexare now National Champions and Derrick scored in the final at Nottingham Forests Stadium
Lauren Graves, Macy Watts, Alana Delaney - won the County Cup winning 6 - 1 in the final, with Macy scoring a goal and Lauren saving a penalty. Lauren and Alana have also been part of the team that won the Sussex Futsal Tournament
Hannah Maslen - County Bowls
Ellen Burt - England women's national development team and selected to play in the inaugural women's 20-20 chamopionships for Southern Vipers
Sporting achievments in college:
Ben Apps - represented the school at Twickenham to greet the England rugby team on to the pitch and sung the National Anthem with them. Ben designed the new college rugby kit
Year 8 Football team - runners up in Crawley Schools League and quarter finalists of the County Cup Plate
Year 7 and 8 Boys Cricket - winners of the Crawley Schools League. They won evey game beating all the Crawley schools. Our first cricket league win in over twenty years. Congratulations to: Kai Ellis, Zain Nazakat, Umar Moufeed (captain) Habil Rasool, Moazzam Muhammed, Imran Seyed Mubarak, Khizr Mahmood, Khavish Rahman, Aryan Bakhai, Joe Langride-Cox, Daniel Jorge, Ebrima Cham and Dillon Commins
Sadly, as we come to the end of term we say our farewells to:
Danielle Davis who leaves us to pursue her dreams at the Brit School.
Mr Shaw, Mr MacVicar, Mr Agnithotri, Ms Thoms. Mr Wong and Mrs bush who are moving on to other schools.
Mrs Brameld who is retiring.
Lastly in memory of Julie Smith a highly valued colleague who passed away earlier this year, who is terribly missed .
Have a lovely summer holiday, see you in September.
Click here for photographs