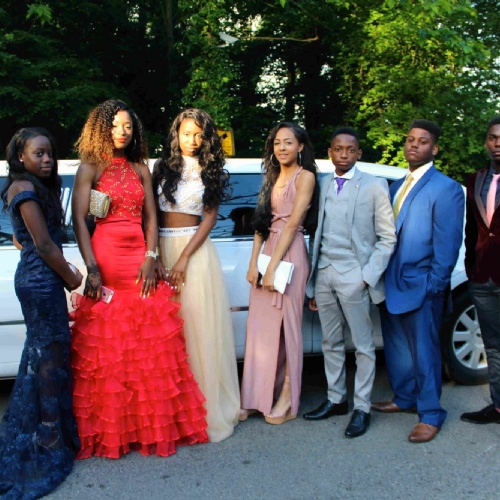 Year 11 attended their Leavers' assembly on Thursday 23rd June and on Saturday 25th June they danced away the evening at their Prom at The Stanhill Court Hotel
On Thursday 23th June we saw the Year 11 students attend ICC for the Leaver's Assembly, for some it was the very last time. The turn-out was excellent and all the students looked fantastic in their attire. Students were musically accompanied into the hall by Sam and Abin. Miss Wilson, Head of Year 11 started her speech to the students by thanking them all for being a great year group, she spoke of her memories and how proud she is of them and how pleased we all are that many will be returning in September to continue into the Sixth Form. Both Miss Wilson and Mr Corbett, the Principal told the students how impressive they were as a year group
Mr Sillery (and The Beatles) entertained us with his IT skills and a moving farewell (see below for attachment). Photographs of the students were shown during the speeches from when they begun in Year 7 and how they have progressed through the years into Year 11. Several tutors also gave speeches including Mr Birkenhead who told everyone how awesome they were, Mr Forsyth remarked on the impression the Year 11s had made in first year at ICC and Mr Hambling tried desperately not to shed a tear.
A delightful buffet lunch was then provided by Mr Elliot and Mr Curry with help from the Year 10 Food Technology students. Selfies ensued as many realised that this was their last day at ICC before they disappear into work, vocational colleges and apprenticeships.
Then it was all on to Stanhill Court Hotel in Charlwood for the Year 11 Prom, Saturday 25th June. Once again the dresses and suits worn by the 130 students that attended were amazing. Students were greeted with refreshments on arrival and then enjoyed a superb three course meal.
Once the tables were cleared, the night became a disco inferno with some superb dance moves seen through the night. Staff also attended the prom to celebrate with the students.
ICC received a glowing feedback from the Stanhill Court Hotel commenting how well-mannered and behaved our students were.
We look forward to seeing the students on Thursday 25thAugust for the GCSE Results Day.
To see photographs taken by Aspire Imaging click here. To access the photographs a ParentMail was sent advising of the password.
To see our photographs taken by Ms Clayton click here.
To see Mr Sillery's farewell video click here.