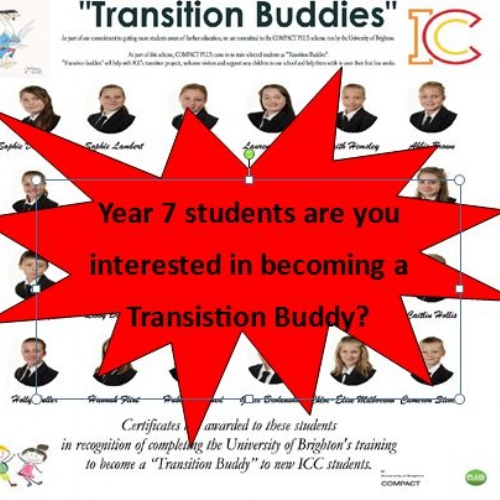 Year 7 students would you like to be a 'transition Buddy'? Are you friendly, helpful and know the school rules? If so we would like to hear from you.
COMPACT PLUS will be coming in to train selected Year 7 students as "transition buddies". "Transition buddies" will help with the school's transition projects, welcome and support new children to our school and help them settle in over their first few weeks. Their first task will be to escort the Year 6's in the transition day here at ICC on Wednesday July 6th. Interested students must complete an application letter and return to Miss Pritchard / Mr Rowe by Wednesday 27th April, 2016.
You can view the Parentmail that has been sent out which includes the job description below.
If you have any questions or require further information, please contact me here at ICC at dec@ifieldcc.co.uk or 01293420500, or contact the University of Brighton directly on 01273 641043 or email compactplus@brighton.ac.uk