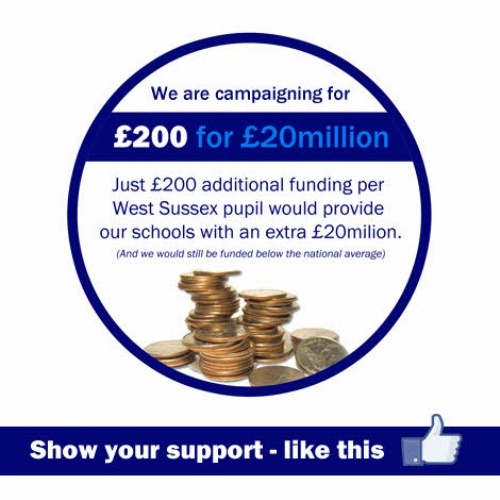 You may recall before Christmas that Mr Corbett wrote as part of a West Sussex campaign for fairer funding for our schools. Please find attached an update, a template for a letter which Mr Corbett would urge you to send to Henry Smith MP and a poster which shows visually how far our funding falls below other areas of the country.
Your proactive support has never been needed more. In order to gain this funding improvement, we urge you to do the following:
Continue to 'Like' and 'share' the campaign – particularly '£200 for £20m' and comment positively on Facebook https://www.facebook.com/WorthLessWestSussex
Contact your local MP - you could use the attached pro forma - and re-state the need for an immediate improvement to current funding from April 2016.
Contact local newspapers, BBC Radio Sussex and South Today/Meridian TV expressing your support for Worth Less? and, in particular, '£200 for £20m'.
Thanks again for your continued support which is already making a difference.