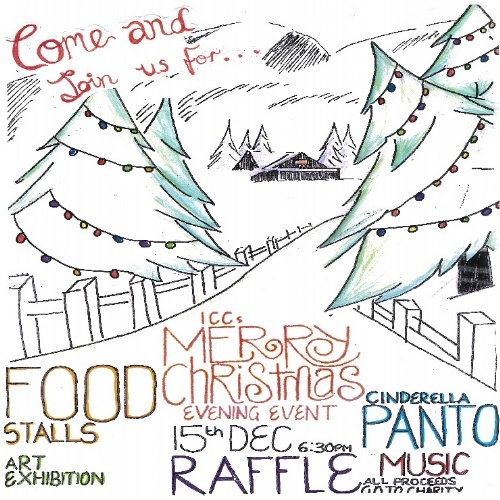 Students and staff prepare and rehearse for the Christmas Celebration Evening, Tuesday 15th December.
Students had been rehearsing over several weeks for their roles in the Cinderella panto. The final rehearsal was shown to St Margarets Primary School students and staff, at the end of the rehearsal St Margarets students were asked for their feedback on the performance.
Our Arts Faculty had also been working with students in preparing christmas themed art and crafts including decorations, stocking fillers and homemade gifts which were available for purchasing on the night. Students attended an afterschool club to put the finishing touches to the decorations and gifts.
The lighting and sound on the evening was supplied by an ICC student;Toby Dickinson, (@disco). Toby with help from his friends and many extention leads created the atmosphere for the panto.
There was also performances from our choir during the evening too.
The ticket price included a tasting menu prepared by students and staff at ICC which was available from the European Christmas food stalls that also accompanied the evening.
The students and staff would like to thank everybody that came along and supported all the hard work, talent and commitment that the Performing Arts, Arts and Food Technology students and staff contributed in making the Celebration evening a huge success.
We hope you all had an enjoyable evening.
Click here to see more photos