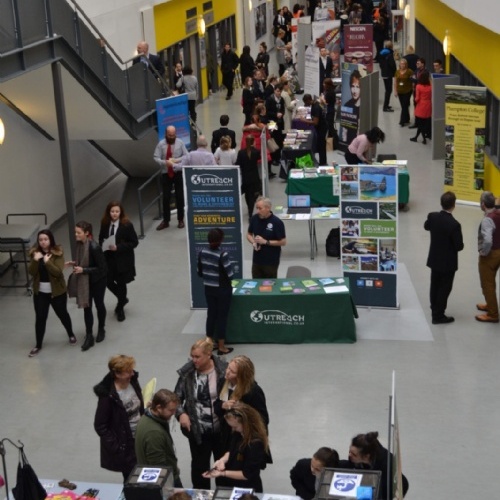 On Friday 27th November we ran our first ever Careers Fair between 8am and 3pm. The Careers fair ran alongside a Progress Review day so all students were taken off timetable for the day to attend their Progress Review appointment and to experience what the Careers fair had to offer.
We had 30 exhibitors available from Local businesses (many as part of our strong STEM programme
www.STEMatICC.com)
included: Thales, CGG, L3, ThermoFisher, the NHS with a resus dummy, Coco's hair and beauty salon with their dummy heads, and many professionals from wide variety of backgrounds, including Justin from the BBC with Oculus Rift , a virtual reality head-mounted display. These businesses all spoke about employment possibilities and career guidance and with some offered hands-on practical demonstrations.
Also we had colleges available these included: Chichester College (Brinsbury Campus) - bugs and tyre changing, Central Sussex, Plumpton, Northbrook, Access to Music. Impartial and independent careers guidance by WSCC, National Careers Service and Brightside. Plus businesses covering apprenticeships these included: Network Rail, Rewards Training, RiiG Ltd., Nestle, SteveWillis.com, Jace-Training
There were presentations running throughout the day giving advice to students on all aspects of careers, apprenticeships and colleges.
Students had the chance of winning a Raspberry Pi (a credit card sized computer)if they took part in 'who am I? competition where they had to find the correct exhibitor by a given description.