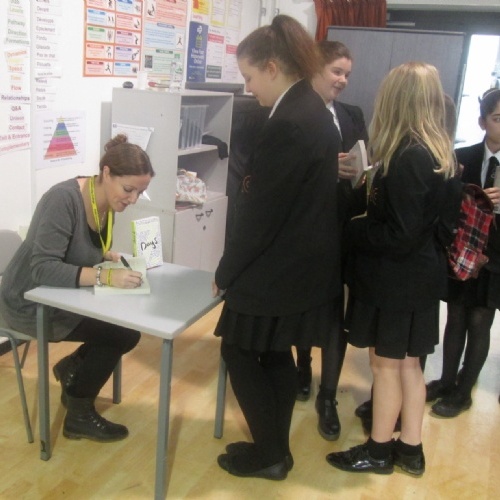 On Wednesday 18th November local author Eve Ainsworth visited the school to talk to Year 8 pupils and a few Year 7 pupils about her book "7 Days". "7 Days" as the title suggests is a story about bullying set over the course of a week and told from the viewpoint of the victim and the bully. It was inspired by Eve's work in a local school and has recently been nominated for the Carnegie Medal which is awarded annually to an outstanding children's book.
Eve told pupils about her progress from a young child writing stories which she read to her dog, through many rejections by publishers, to the publication of "7 Days" earlier this year. She spoke about the types and possible consequences of bullying and also presented pupils with some statistics about it. Another of her books "Crush", about a toxic relationship, is due for publication next spring.
Eve shared some of her top tips for becoming a writer and stressed the importance of reading and of not giving up. Craig Moss, Key Stage Four Manager of English said, "I thought that she related to the students really well and spoke of issues that directly affected their lives. My group were bubbling after the session."
Afterwards, Eve signed copies of her book and enjoyed a lunch in the Learning Resource Centre with some of the LRC top borrowers from different year groups.
Click here for more pictures.
You can follow Eve on her twitter page: @EveAinsworth