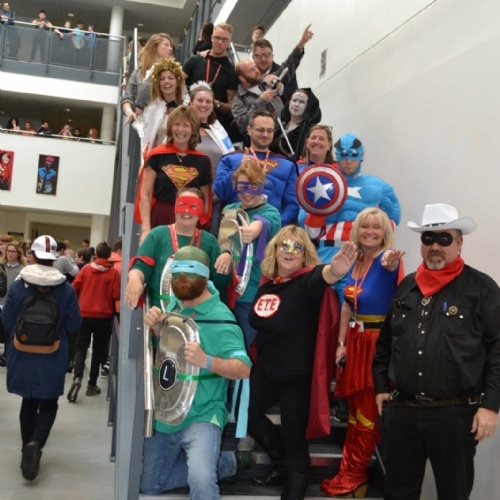 Students and staff dressed up in the theme 'Super Heroes' on Friday to raise money for Children in Need.
In the lead up to Children in Need our Student Council panel got together with tutor groups to come up with ideas about how ICC could raise money for this worthy cause. During break and lunchtime, students arranged the following activities:
Busking
Cake sale
Games zone
ICC bake off
Selling tickets for year 7 disco
Face painting and tattoos
Guess sweets in a jar
Live band performance
Name the teddy
Sixth form students' re-enactment of a Star Wars lightsaber duel
Generously, Mr Corbett offered to be "gunged" as part of the fund raising activities, and with similar consideration, Sixth Form students came forward and volunteered Head of Sixth Form, Mrs Murphy-Dunn for the same fate. Mrs Murphy-Dunn agreed on the condition that Sixth Form students alone had to raise £400.00 on the day and the two Sixth Form students that raised the most amount of money would have the pleasure of the "gunging". Amazingly they raised the money in no time at all. So, at lunch time Mrs Murphy-Dunn was "gunged" not only in front of students and staff but also on live BBC Radio.
During Tutor time, the Student Council judged their year groups to decide the best dressed 'Super Hero' student with Mr Corbett choosing the overall winner. The winner's prize would be the honour of "gunging" the Principal.
Staff dressed in 'Super Hero' costumes met in the atrium at break time and were judged by Mrs Murphy-Dunn and Mrs Mciver-Wren who chose the best dressed member of staff. The winner was to join the best dressed student in "gunging" the Principal at the end of the day.
The finale of the day arrived at 3:05pm with the "gunging" of Mr Corbett. Students cheered on and began the countdown: 3, 2, 1 as the "gunge" poured, Crawley News photographer caught it all on camera!
A fun day was had by all. A huge thank you to the Student Council, and everyone involved in making this a fantastic and memorable day.
The total figure so far raised, an impressive £1568.28 - Well done.
Click here to see more photos.
Click here to see the Crawley News on-line article