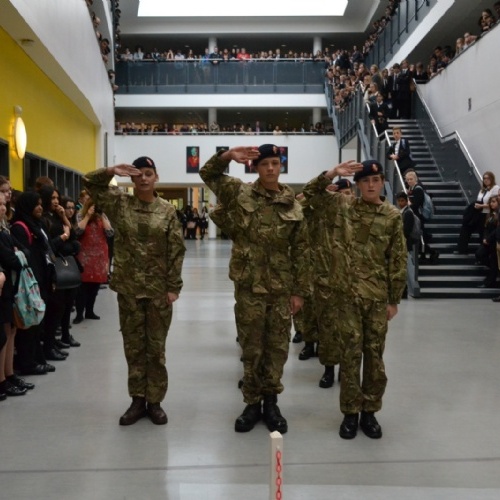 At 11:00am ICC staff and students fell silent for two minutes to commemorate Armistice day.
the ceremony began with ICC students who were dressed in their cadets uniform march and salute to the centre display. Staff and students observed from around the atrium and fell silent at 11:00am to the sound of the 'last call' being played by our sixth form student to commemorate those who fought and died for Britain not just those that died in the First World War, but in World War Two and later conflicts.
The end of the silence was marked by two students from the Student Council laying a cross on a bed of poppies.
Mr Corbett commented "It was an extremely moving ceremony with the whole school gathered together. From the sounding of the last post an impeccably observed silence was ended with the laying of a wreath. The students involved had visited the battlefields with representatives from schools across the country. I am extremely proud of our students for the respect shown to those without whom we would not enjoy our freedom".
Click here for more pictures