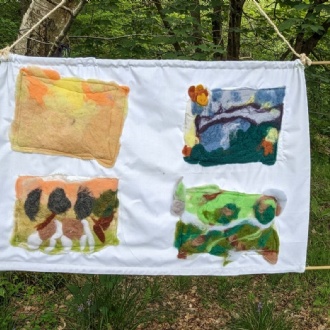 Now in its in fourth year, the ICC and So Sussex collaboration, took place on 5th May.
There was a theme of Galactic Superstars vs Flora & Feathers. Students were invited to participated in a day-long project that involved creating felt pictures using natural materials.
In addition to the day-long project, students in our after-school art club again contributed pieces that they worked on over several weeks. Following the theme, students developed their own ideas using different media to produce a range of pieces including cushions and a papier mâché peacock.
All the items produced were displayed in the art trail at the Elderflower Fields Festival alongside contributions from other primary and secondary schools in Sussex.
Elderflower Fields is an independent festival, organised by So Sussex, that provides a unique family experience offering opportunities to explore sport, music, the arts, nature, and food. More information about the festival can be found on their website at www.south.elderflowerfields.co.uk/
Click here to view photos