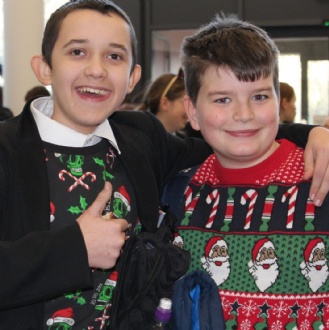 Students and staff wore festive jumpers to raise funds for a local charity, the Greenaway Foundation.
Mr Corbett, Headteacher welcomed everyone to the end of term Christmas assembly, for many it was the first indoor whole school assembly for three years.
We heard that our school pantomime of Jack and the Beanstalk was a huge success with both nights being a sellout!
Mrs Murphy-Dunn spoke of the fantastic fund-raising our students have done for the various charities throughout the year.
We celebrated, congratulated and awarded students for their successes in Maths, Accelerated Learning, Science, Duke of Edinburgh awards, Bronze Art awards, PE awards, BEBRAS awards and many more. Well done and keep up the amazing work.
In November, Mr Corbett asked the student community to help produce a set of values and a vision for the school for the next four years. From the 21 entries submitted, we congratulated Toby, Andre and Owen who each won a £50.00 amazon voucher for creating our new school vision and statement.
There were some fantastic performances from the Dance YES Project, Sixth Form band, piano medleys and a reading - Winter time by Robert Louis Stevenson.
To end the assembly we said our farewells to Mr Forsyth and Mrs Styles who are leaving us this term and wished them good luck for their futures.
We would like to wish all our students and their families a peaceful and enjoyable Christmas break.
Click here to view photos.