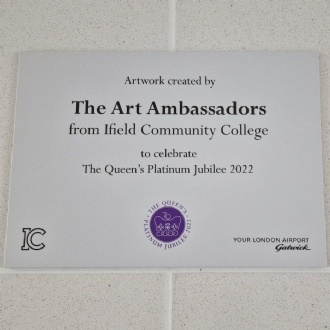 Before the summer break, ICC artists were commissioned by Gatwick to create an artwork to celebrate the Queen's Jubilee year.
Below, you can see the finished artwork, which is now installed on the Jubilee bridge. The artwork is airside so can only be seen when flying. Still, many people will see this over the years to come.
There was a strict brief (e.g. size, format, colour, subject) and hardly any time, but I think the students have done a fantastic job working to create this collaborative, site-specific artwork.
A huge well done to ICC Artists: Abby Flowers, Autumn Peck, Henrietta Hammond, Isabelle Smith, Jason Dickinson, Lilli Burchell, Kacey Dickinson, Ruby Walker.