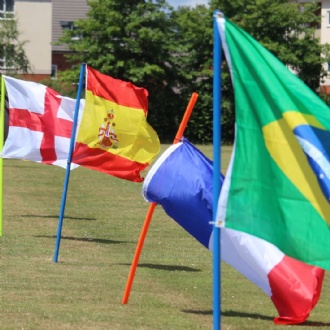 Students and staff gathered on the school field for a day of track and field events.
It was lovely to see everyone enjoying and competing in their designated countries based on the 2022 Qatar World Cup.
This year we saw a number of school records being broken across the year groups in the various field and track events.
Click here for photos of the day.
Well done to everyone who competed and congratulations to the following students:
Record Breakers
Noah Whitehouse - 4.30m Long Jump (Year 7)
Gregory Duval - 37.00m Discus ( Year 7)
Mika Fowling - 1.2m High Jump (Year 7)
Tayaba Zulfiqar - 27.00m Discus (Year 7)
Alaa Abdulswahed - 33.10m Discus (Year 8)
Lola Dowse-Wallis - 28.05m Discus (Year 8)
Faith Gibbons - 8.17 Shot Put (Year 8)
Rio Mcfarlane - 56.10m Discus (Year 9)
Malina Dabek - 35.01 discus (Year 9)
Girls Relay - 58.62s Mentor group 9LRE
Jack Walter - 5.27m Long Jump (Year 10)
Jobi Halser - 80.07m Discus (Year 10)
Amira Ahmed - 31.09m Discus (Year 10)

Best Track Athletes
Roshan Kayube (Year 7)
Jess Camp (Year 7)
Callum Richardson (year 8)
Tilly Bailey (Year 8)
Scott Brend (Year 9)
Carra Dowling (Year 9)
David Pierazzo (Year 10)
Ella Martin (Year 10)
Best Field Athletes
Gregory Duval (Year 7)
Tayaba Zulfiqor (Year 7)
Alaa Abdulwahed (Year 8)
Faith Gibbons (Year 8)
Rio Mcfarlane (Year 9)
Malina Dabeck (Year 9)
Jack Walter (Year 10)
Jean Wright (Year 10)
Best Overall Athletes
Noah Whitehouse (Year 7)
Mika Fowling (Year 7)
Max Wolthers (Year 8)
Kelsie O'Hagan Arnold (Year 8)
Tyler Grant (Year 9)
Sally Flora (Year 9)
Jobi Hasler (Year 10)
Ciara-Lily Lee (Year 10)
Overall Country Winners
1st place - France 604 points
2nd place - Argentina 543 points
3rd place - Spain 499 points
4th place - Brazil 497 points
5th place - England 497 points
6th place - Belgium 458 points
7th place - Portugal 428 points