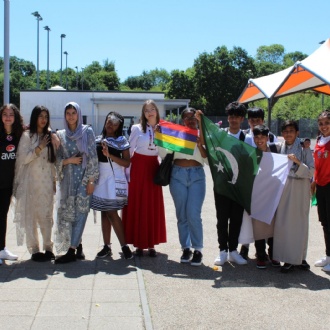 On Wednesday 22 June, Ifield Community College held its first ever Diversity Day. The event was to celebrate the diversity of the school, and local community, with a big focus on Pride and culture.
The first part of the event was held for members of the school community, but an invitation was extended to family and friends for the latter half.
A vibrant array of stalls scattered the school grounds, from rainbow-themed cakes to aromatic world food stands, from home-made jewellery to henna and face painting. Students and staff donned the dress of their cultural heritage or wore Pride-themed clothing in celebration of their uniqueness. The team of staff members who organised the Diversity Day event are delighted at how much they have managed to raise for two incredible charities: Crawley LGBT and Refugees Welcome Crawley.
Next year's ambition is to make it even bigger and better!
Click here for photos.