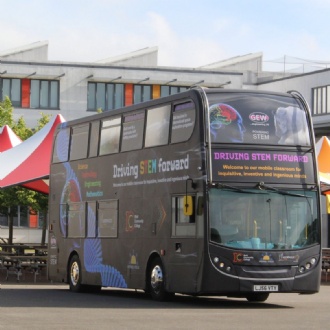 Tuesday 21st June saw the official unveiling of the ICC STEM Bus!
The bus was a fully functional TfL bus until the end of March when it was taken out of service to live out its active retirement in the idyllic setting of Ifield Community College. In collaboration with Ardingly College as part of the Ardingly Ifield Solar project we plan to completely transform the bus into a mobile workshop and classroom.
When the work is complete downstairs will be a fully functional workshop to allow the solar car to be made, as well as assist in the building a Greenpower car, a quadcopter and rockets to compete with Global competition. Upstairs will become a learning space allowing us to take the classroom away from the school and show everyone how great it is to be a student at ICC.
Congratulations to Autumn Peck who won the competition to design STEM artwork which is featured on the rear of the bus and well done to all the students involved in the STEM project for working hard to strip the inside of the bus.
None of this would have possible without the help of GEW (EC) Ltd and we are incredibly grateful.