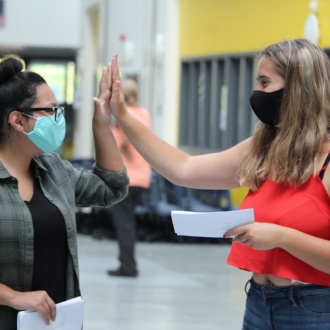 Year 12 and 13 students collect their A Level, vocational and GCSE results.
This has been a very difficult situation for all students and we would like to praise the efforts of ICC students in managing it so well. I would like to thank all my staff for the detailed and dedicated work that went into the Centre assessed Grades (CAG) process.
Given the adjustments to some grades for students and the recent announcement regarding 'mock' grades it is very unclear what eventual outcomes will be for students. We will continue to call for all CAGs to be awarded.
As such to highlight individual students seems insensitive as other students, just as deserving, may be having difficulty accessing their courses or apprenticeships. I do not wish to compound the unfairness those students may feel.
I hope that all students are able to move on to the place of their choice.
Rob Corbett,
Headteacher
Click here to view photographs.