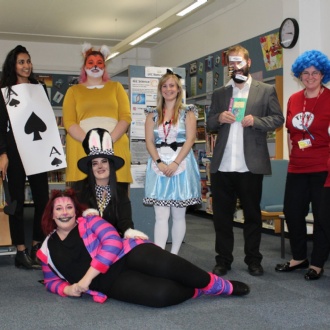 A great day was had by all on Thursday 5th March as students and staff got involved with the first World Book Day activities held at ICC.
Well done to everyone that entered the competitions, the standards were absolutely amazing. Winners of the competitions were announced this morning in registration, they are:
Book Jacket Potato Competion
First place - Hedwedge by Poppy Clark
Second place - Shmuel by Malina Dabek
Third place - Spud of the Dump by Isobel Child
Winners will collect their prizes at lunch; all other entrants will receive a chocolate bar for entering.
Best Dressed Teacher - as voted by students.
First place - Mrs Sinclair
Second place - Miss Turner
Third place - Mr Doyle
Creative Writing Winner
Neve Dunn, Neve's story will be published in the next issue of the school newspaper - The Ifield Insider.
Winners the WBD quiz will be announced on Monday.
A massive well done and congratulations to everyone for making the day successful. We hope you all had an enjoyable day.
Click here to view photos of the day.