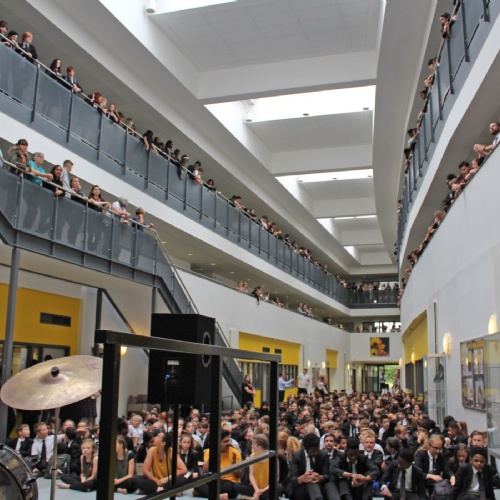 Mr Corbett ended the summer term with a whole school assembly.
Mr Corbett reflected on what a successful year it has been for ICC and how proud he is of the school community.
Jess sung a solo performance before Mr Corbett congratulated all the students who graduated their IBacc. The graduations were really great evenings recognising a whole range of student successes.
ICC were nominated for the prestigious Times Education Supplement STEM project of the year for our collaboration with Ardingly College and the solar car panel project. Many of the students would have seen the car recently when it visited ICC. Mr Birkenhead, Miss Sumpter and Mr Gaule were thanked for their hard work on the project and for representing ICC at the awards.
This year we have seen the inception of the school newspaper - Ifield Insider, the latest addition can be found below.
This year we have seen Accelerated Reader rolled out to Year 7 and 8. A huge congratulations to all the Accelerated Reader Millionaires who have read more than a million words. We also have our maths Hegarty Heroes, congratulations to the following students who have come top of the Hegarty Leader board this year:
Year 7 - Guila Kushma, Year 8 - Bamika Nimalathasan, Year 9 - Shannon Taylor, Year 10 - Annie Thomas.
We also saw the welcome return of a school production with Grease earlier this year. It was a wonderful to have this event and there are great plans afoot for next year's production of High School Musical. Many thanks to Mr Trebar, Ms McThredder, Ms Salter and all the performing arts team.
Welcomed on stage to perform was the Band Camp.
Mrs Murphy-Dunn announced the monies raised from this year's charities. Marilyn from the Olive Tree Cancer Support Centre was welcomed and presented with a cheque for £5,000 from this year's Sarah Robinson commemorative sponsored walk. Students from Mrs Clarke Mentor group 7SCK raised just over £350.00 presented the cheque.
We said our sad farewells to members of staff leaving this term:
Mr Cambers, Ms Pateman, Ms Linley, Ms Taylor, Mr Barratt, Mr Sillery, Mr Curran and finally Mrs Webb.
Lastly we saw the resilience award being handed over from Nabil to this year's nominated students Charlotte and Hayden Power for their resilience during a very unsettling time. During the course of the year the family suffered a fire at their house and finally after a long wait they moved back only to have a huge oak tree fall into their house a month later. Whilst their house was being made safe they were finally allowed to visit only to find they had been burgled and their possessions stolen. During this time of unsettlement they kept attending school.
Our assembly finished with a performance from our dancers and drummers.
Wishing you all a lovely summer.
Click here to view photos.