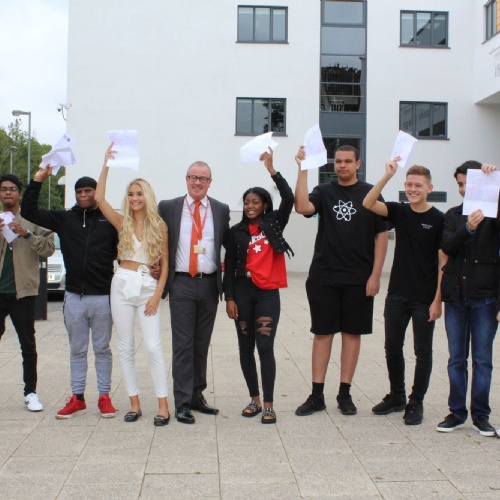 Another successful year for ICC students!
A fantastic set of GCSE results are being celebrated at ICC. We are delighted that the hard work put in by students and staff over the last three years has paid off and our Year 11 students are well placed to progress their ambitions. Most are returning to our sixth form and others to apprenticeships and other institutions locally.
In a year where there has been a great deal of change the levels of progress made by our students remain consistently high. This reflects the recent Good Ofsted judgement and demonstrates our consistent improvement in recent years. Standards in all the core subjects have improved again.
We are extremely proud of the success of all of our students who showed the tenacity and dedication to succeed in the reformed qualifications.
We have many students achieving the new top grade 9:
Morrell Sotomi (English, Biology and Chemistry), Dmitrijs Smetanins (Maths and Geography), Abdel Moali (English Lit and Computer Science), Caterina Dos Santos (English Lit), Lauren Graves (History, Jade Hill (History),Matthew Loughton (Maths), Khalayi Wangamati (Chemistry). Khalayi appeared on BBC breakfast news this morning.
We are very keen to ensure all students make good progress and all of the following have made at least a grade per qualification higher than is expected nationally:
Fatima Ali, Abdel Moali, Frank Chevery, Caterina Dos Santos, Lauren Graves, Sapphire Blake, Zain Jafar, Matthew Loughton, Morrell Sotomi, Karshian Gnanachandran, Fatma Cete, Merita Zemliauskaite, Jade Hill, Taigen Moore, Thibiththa Raguraj, Fatima Jallow, Tommy Beer, Ismail Zafar, Charlie McQuadfe, Charlotte Power, Freddie Simpson. Michelle Nascimento, Emilija Taleisyte, Lara Pestana.
The headteachers locally have agreed to share the successes of students rather than statistics as the new GCSEs have no clear 'headline' measure. The DFE will produce earlier comparative statistics for all schools this year so parents can see the progress made by the whole ability range within schools.
To view photos of the day, click here.