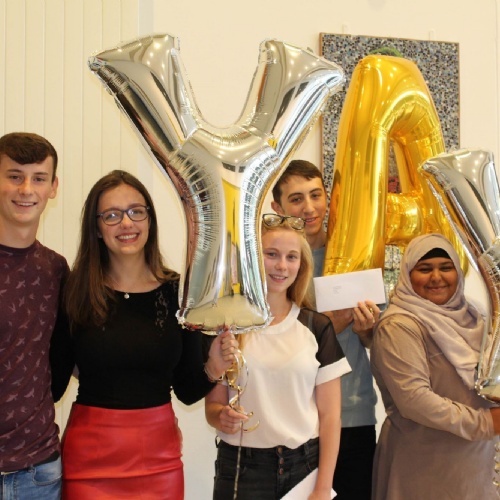 What a year of celebration for Ifield Community College!
In the year in which we achieved a 'good' grading from Ofsted, both for the whole college and for the Sixth Form, we are celebrating the huge successes of our year 13 students with some outstanding results. This year has seen a large increase in the number of students' achieving university places, most especially in top universities, alongside securing highly competitive apprenticeships. For the third year in a row they celebrate an increase in the number of top grades, with 43% of passes being A*-B (or equivalent) grades. Chemistry, French, Law, Sport, Business Studies, and Hospitality are celebrating 100% of grades at this level. Mathematics and Biology accomplished 50% at this grade, being well above national average for these subjects.
Ifield Community College are proud of all our students' achievements but some have stood out for accomplishing such high results. Sara Moufeed achieved 3 A grades in Biology, Chemistry and Mathematics and is off to University College London to study medicine, fulfilling her long held ambition to become a doctor. Aysha Mehmood also achieved three A grades in Biology, Chemistry and Physics and will be reading Medical Sciences at the University of Exeter. Zacc James has accomplished his ambition to study Law and will be going to the University of Liverpool, and both Manan Vaidya Lewis Freeston will be off to the University of Surrey to study accountancy and biology respectively.
Harry Poil stands out as a student who has overcome so much adversary to achieve distinction and merit in double Sports BTEC and merit in Health and Social Care BTEC. When Harry had just begun year 7 at ICC he was diagnosed with leukemia. He undertook a programme of chemotherapy which caused a severe reaction, resulting in him spending a year in hospital, throughout most of which time he was completely paralysed, Harry had a long battle of recovery with ongoing physiotherapy but with his strong determination to succeed, today he is deservedly celebrating these results.
Further, many students have chosen to pursue their future plans through apprenticeships, gaining prestigious places at local employers. Both Jade Dancaster and Vaiva Bauzaite have declined top university places to pursue high level apprenticeships. Jade, who achieved an A* in Biology with A grades in Mathematics and Further Mathematics, will become an apprentice accountant and Vaiva is off to Thales to become an engineering apprentice.
"Sixth Form Results Day is about securing young people's futures," said Rob Corbett. "I am extremely proud of all of our students and the staff who have supported them so well. We set ambitious and challenging targets for our students, work with them to develop their confidence and provide an ethos in which they can study and thrive."
Rob Corbett said "We wish them all great success in their futures and we now look forward with tremendous enthusiasm and excitement to welcoming the new sixth form joining us in September."
To view photos of the day, click here.