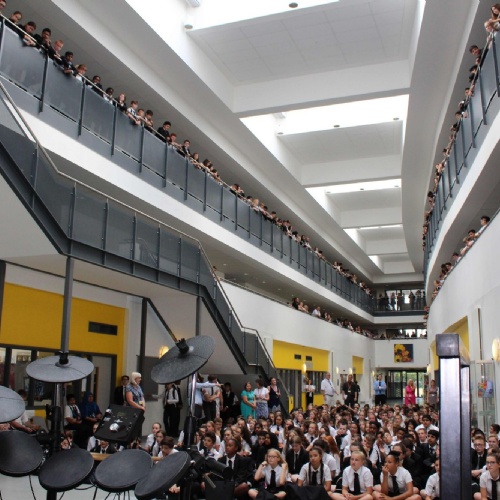 Mr Corbett ended the summer term with a whole school assembly.
Mr Corbett reflected on what a successful year it has been for ICC in which the school community was praised by Ofsted as a Good school.
Reasons to celebrate:
1. Congratulations to all the students who graduated their IBacc, more than 80% of students did so.
The graduations were really great evenings recognising a whole range of students' achievements. The IBacc reward trips on Monday 23rd July to Thorpe Park, The Spectum Centre, Tilgate and Crawley Megaplex were great fun and very successful.
A huge thank you to Mr Ward for organising the trips.
2. Students furthering their education at universities:
34 students are eagerly awaiting their exam results, we wish them all the very best of luck.
3. Sports Achievements:
Mr Ward promoted how ICC as gone from strength to strength in the Sporting events of the school.
There are over 100 leaders in sports and are growing in size. We are now established with leaders in gym, netball, basketball, cricket and table tennis.
New community events, 25 of our Year 9 students led events at the Sussex Para Youth games in June. The event gave excellent feed back about our students saying how polite, enthusiastic, responsible and inspirational they all were.
Year 7 girls basket ball team came 2nd place
Year 8 were awarded bronze in indoor athletics
Year 7 were awarded bronze in outdoor athletics
Year 7 girls indoor athletic team came 7th in Sussex
Cricket, we have only lost 2 out of 15 matches in the last 3 years.
4. Charity Work:
Congratulations to everyone who raised funds for the Sponsored walk on Friday 13th July. Thank you for your efforts and generosity, we raised almost £3,000 that will be donated to the Chailey Heritage Foundation Charity.
5. Staff:
We would like to thank all the support staff at ICC for the work they do behind the scenes to help the school function daily.
We would like to say farewell to the following teaching staff at ICC:
Ms Teager, Ms Clarke, Ms Fluery-Beecham, Ms Challen and Mr Clay.
6. Resilience Award:
The award was presented by Harry to Nabil, Nabil has made great effort and excellent progress. Well done Nabil.
September reminders:
Monday 3rd September - INSET Day
Tuesday 4th September - Year 7 students start 08:30, Years 8 to 11, please arrive at break to start lessons P3, 11:15
Our communication tool is changing with effect from the 1st September, please make sure you sign up to receive all the relevant information for your child. Please remember to use the mobile number and email we have on record for the first priority parent.
Please ensure students return to school in the correct full school uniform requirements.
We wish you all a lovely summer.
Click here, to view photos.