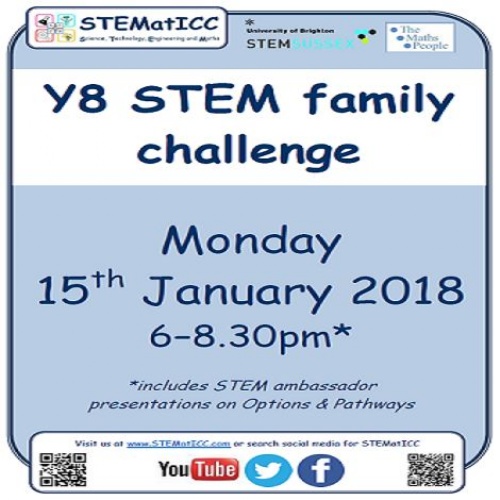 The STEM evening is open to Year 8 students and their parents. This is a free event, with only 100 spaces available.
This pre-Options fun evening event is designed to raise awareness and show families some of the courses and careers available in STEM (Science, Technology, Engineering and Maths), as well as give you the opportunity to work in teams on an exciting family challenge activity. We would encourage as many students as possible to bring an adult along, however this is not essential.
The evening will focus on STEM career guidance by giving students a taster of STEM in its broadest context, demonstrating how this fits into the 'real' world of work and the pathways available to them. Families will have the opportunity to meet people from STEM related industries/ courses and take home information about the range of jobs and routes in these sectors
The evening is free to participants, with refreshments provided, and will follow a similar format to our now annual event (see attached):
Male and female speakers, from a variety of STEM backgrounds, giving personal accounts of their lives within engineering
University of Brighton, Compact Plus scheme
Ambassadors will be on-hand with advice and guidance on university life and to explain ICC's close links with the university through the Compact Plus scheme
This year we are proud to be led by The Maths People
!!! Warning: This event requires no prior knowledge of STEM whatsoever !!!
If you would like to attend, please complete the attached invite and return the slip to Mr Curran.