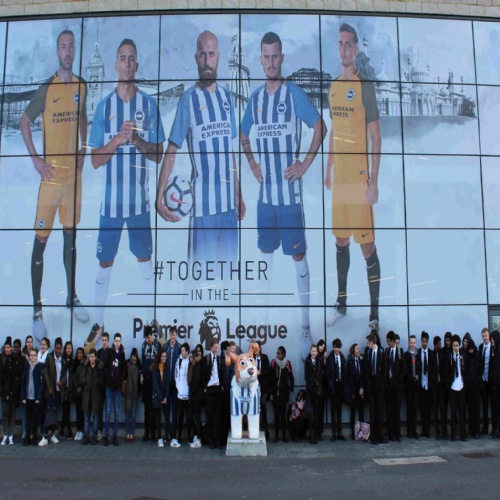 Thirty Year 9 and 10 students visited the Brighton AMEX Staduim as part of the NCOP* programme.
"Chichester College are working in partnership with Albion in the Community (AITC), the official charity of Brighton & Hove Albion FC, to develop the grit and resilience of local students. AITC will deliver a series of themed enrichment days focusing on raising aspirations and helping students overcome barriers to their reaching their full potential. The day was held at the American Express Community Stadium, an inspirational learning environment which will allow the college and local schools to enhance and stimulate students' learning beyond the classroom. The purpose of partnership is to equip students with the skills and knowledge that they need to make informed decisions at key points in their school lives and ultimately prepare them for their future pathways and the world of work. Led by AITC's qualified teacher, the days will be tailored to meet the needs of each group of students and will include a behind-the-scenes tour of the award-winning American Express Community Stadium."
After lunch students were treated to a tour, where they accessed all areas of the stadium.
*NCOP - National Collaborative Outreach Programme
Please click here for more photographs