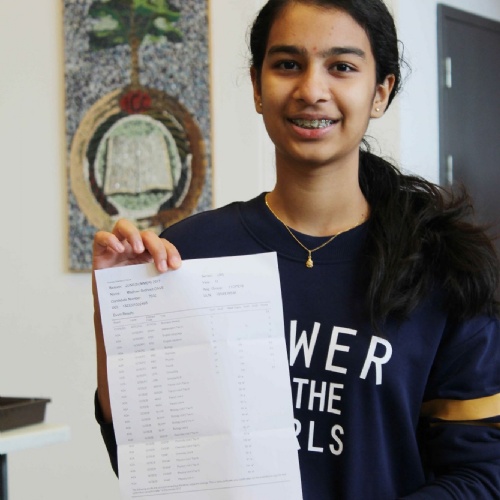 A fantastic set of GCSE results are being celebrated at ICC.
We are delighted that the hard work put in by students and staff over the last three years has paid off and our Year 11 are well placed to progress their ambitions.
The outcomes show the progress made by the school in recent years has continued. Our results are in line with predictions which the Ofsted inspection recently said would represent really good outcomes.
We are extremely proud of the success of all of our students who showed the tenacity and dedication to succeed.
We have many high achievers including Madhavi Dave who achieved the new grade 9 in both Maths and English along with six A* grades, a grade 8 and an A. Madhavi was also the student who made the most progress of all Year 11 students with results more than two and a half grades above government estimates for her. Well done Madhavi!
We are very keen to ensure all students make good progress and the students who have more than a grade per subject above government expectations are:
Madhavi Dave, Fathima Abdul Kafeer, Max Brown, Ahmed Shah, Dhawani Trivedi, Aayushi Trivedi, Hannah Maslen, Sasha Munir, Jason Belbin, Spencer Perkins, Ricky Nayee, Callum Porter, Joana Paiva Pombo, Faisal Mehmood, Kelly Lewis, Jaye Golder, Manthan Nayee, Nirushan Navaneethapalan, Maxwel Lee, Hennaz Gull, Kirsten Miller and Lara Kenvin.
The majority of our year eleven students will be staying at ICC for sixth form and we look forward to their continued success.
Click here for pictures of the day.
Article in the Crawley Observer