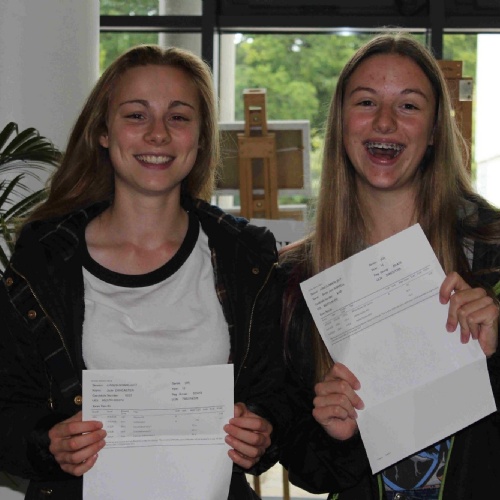 Ifield Community College is delighted to report on the outstanding successes of our sixth form students.
The achievements of the young people with a qualification pass rate of 99.1% mean that Ifield Community College students are off to universities and employment across the United Kingdom.
Many of the students have excelled and will be taking up university offers as the first generation within their families to do so. They have chosen study in areas as diverse as Interior design, analytical chemistry, biological sciences, computer science, fashion styling and international business. There is a noticeable change, reflecting the national picture, with most students choosing vocationally based university courses such as business and accountancy, sciences, nursing and computer science. Students have gained places at a variety of institutions with the University of Surrey being the most popular choice and others including Exeter, Brighton, King's College London and Royal Holloway.
Many students have chosen to pursue their future plans through apprenticeships, gaining prestigious places at local employers such as BA and Marks & Spencer as well as specialised colleges such as BIMM for songwriting and music and Brinsbury College for animal care.
Students have been very aware of future financial implications and have sought other pathways to their chosen careers this year with, for example, one student is pursuing nursing through an apprenticeship rather than the university route and others making direct entry into the RAF and Royal Navy. We are very pleased that one of the students has successfully achieved a full time position within our college and another will be gaining valuable skills as an intern in our Sports department.
"Sixth Form Results Day is about securing young people's futures," said Rob Corbett. "I am extremely proud of all of our students and the staff who have supported them so well. We set ambitious and challenging targets for our students, work with them to develop their confidence and provide an ethos in which they can study and thrive.We wish them all great success in their futures and we now look forward with tremendous enthusiasm and excitement to welcoming the new sixth form joining us in September."
Click here for pictures of the day.
Article in the Crawley Observer