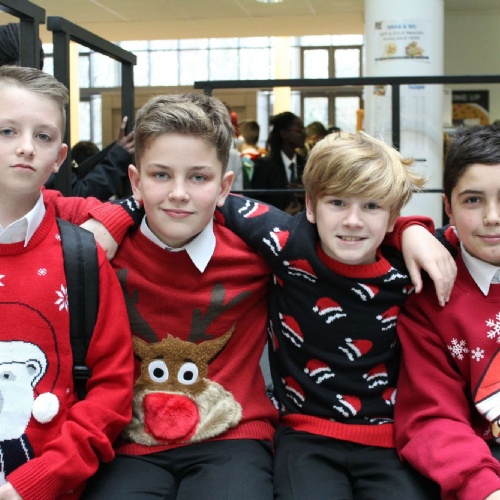 On the last day of term, Friday 16th December, students and staff at ICC came dressed in Christmas jumpers and donated £1.00 to support the charity Save the Children. Students also arranged an amazing sell out cake sale, from which all the proceeds went to charity.
Prior to the school closing at 1pm, the Chagossian drummers played as students and staff congregated in the atrium for the end of term of assembly where Mr Corbett spoke of what a great term it has been with the introduction of the IBacc and ICC getting the best ever GSCE results with students making significantly better progress that those nationally.
Students listened to the choir singing several festive songs throughout the assembly. Mr Corbett commented on the very generous nature of ICC students and staff has meant that very worthy charities have benefitted from our fund raising activities our college has been involved with such as:
Coco's Foundation who help support children in some of the poorest parts of Africa to receive an education. Chris from Coco's Foundation was welcomed and was presented with a cheque for £8392.58 that ICC raised from our first summer sponsored walk. Ifield Friends House also received a donation of £1000.00 from the money raised during the walk.
We have also raised £1163.31 for Children in Need with which we split equally between Children in Need and Heshima Charity in Tanzania where Ms Quine is currently working.
£300.00 was raised by staff in the coffee morning to support Macmillian Cancer.
Students and staff donated food items for Christmas hampers that will go to vulnerable families around Crawley to help them have a special Christmas.
We raised a total of £479.41 today for Christmas Jumper day that supports charity Save the Children.
Mr Corbett went on to congratulate students that were invited to the end of term Rewards events. Zacc and Jade, Head Boy and Girl presents Amazon vouchers to the winners of the quizzes held during the events. Students that won the LRC Christmas jumper competition were awarded with chocolate selection packs as their prizes.
As the assembly came to an end we said our farewells to Mr Prentice who has taught Art at ICC for 17 years and Mrs Osborn who has worked as TA and most recently worked in our Focus Centre for 3 years.
We wish you all a happy holiday and see you in the New Year, Wednesday 4th January as Tuesday 3rd January is an INSET Day.
Click here to see photos.