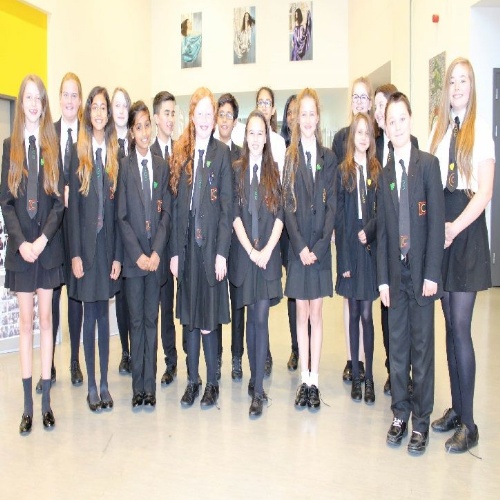 Congratulations to the appointed Performing Arts Ambassadors.


Performing Arts Ambassadors
Congratulations to the Year 7, 8, and 9 students that have been appointed Performing Arts Ambassadors. Their role will be to promote the profile of Dance, Drama and Music within the College.
The student's responsibilities will include:
Promoting the subjects at Open Evenings, Assemblies and Options Evenings
Supporting Dance, Drama and Music e.g. Performance Evenings, Rewards Evenings
Running short sections, questioning and starter tasks in lessons
Presenting projects that they would like to run in Dance/Drama and Music through board meetings
They will be the 'student voice' within our faculty
The appointed students completed a letter of application explaining why they thought they would make an excellent Student Performing Arts Ambassador. Students celebrated with a pizza lunch to welcome them all into the role at their first board meeting on Tuesday 11th October. The ambassadors have been given a Performing Arts badge to wear on their blazer with pride and they maturely discussed the ideas they had for both in lessons and extra-curricular across the faculty. They highlighted what performing arts means to them and what they feel students gain from the subjects to develop an ethos they want to share across the College.
We look forward to sharing the work the ambassadors undertake over the year with you.